March 17, 2019
idc wearables market in china on the rise thanks to wireless headphones
Today IDC released its quarterly report of the wearables market in China. According to the analysts, all major companies showed improvement in sales due to rising interest in wireless audio products and smart wristbands.
Top 5 in Q4 2018: Xiaomi • Huawei • Apple • BBK • Lifesense
During the last quarter of 2018 Xiaomi was a leader with almost one of four sold devices, but Huawei saw a 206% increase, selling 4.3 million wearables in the three months. This helped the Shenzhen company surpass Apple which held a market share of 10% in Q4 and 11% for the whole calendar year.
As in…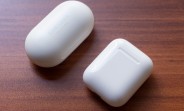 Link: https://www.gsmdb.com/gsmarena/idc_wearables_market_in_china_on_the_rise_thanks_to_wireless_headphones-news-36070.php