March 12, 2019
oppo reno to arrive in four colors
Oppo Reno is arriving on April 10, but thanks to leaksters, we know what the phone will look like from the back. According to a source from China, the new device with the 10x zoom periscope camera will be introduced in Black, Green, Purple, and Pink.
Oppo Reno in Purple and Pink
A teaser from yesterday suggested the Aurora Green color we've known from the Oppo R17 Pro, but today's images suggest quite different design of the back panel, which raises the question which of the two leaks is an artist rendition (there's also a chance they both are).
Oppo Reno in Green…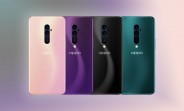 Link: https://www.gsmdb.com/gsmarena/oppo_reno_to_arrive_in_four_colors-news-35987.php